Missions Ministry
With the church's mission being "Making disciples who make disciples," Church of the Saviour has a large mission program. Currently we support 25 missionaries world-wide. For any questions contact our Missions Director, Arnie Mokma.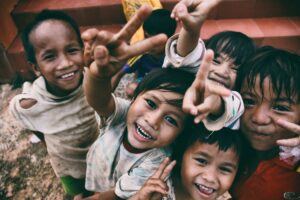 We sponsor 12 missionaries serving different ministries based in the United States: Youth With A Mission in Texas; Family Life in Ohio; Oyate Concern in South Dakota; Sports & Recreation Ministry (international) in Ohio; Spirit Wind Retreat Center in Virginia; The Navigators (campus ministry) in Ohio; Thai Church in Washington, D.C.; Common Ground Ministries (Ohio prisons) in Ohio; Athletes In Action in Ohio; Street Life Ministries in New York City; Officers' Christian Fellowship at the Air Force Academy in Colorado; h2o Church Ministries (on college campuses) in Ohio; Victory Weekend Ministries in Virginia; and CRU (campus ministry) in Southeast US.
We have 13 international missionaries serving in the following counties/regions: Caribbean and Latin America, Australia, Cameroon, Eastern Congo, India, Kenya, Panama, Peru, Slovenia, Spain.
In addition, we sponsor students at the Moscow Theological Seminary in Moscow, Russia. A Russian class at the Moscow Theological Seminary.