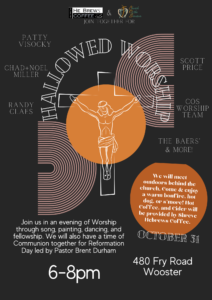 HALLOWED WORSHIP
Join us on October 31st for a night of worship. We will gather at 6:00pm outside in a designated area here at COS.
There will be different activities for kids during worship and a bonfire for all ages to enjoy.
Hebrews Coffee will be providing hot cider and coffee.
Communion will be lead by Pastor Brent Durham
.
Do you love Fall? Chili?
The Barn Party is for you! We will gather on Saturday October 23rd for some fun, food, and a bit of dancing.
10426 W Smithville Western Rd